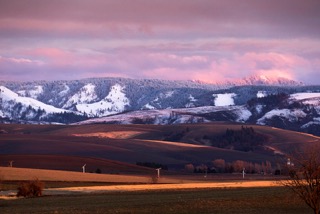 " … The Crud gets to deal at least one hand every year,
and The Crud cheats at cards."

As lovely as The Walla Walla Valley has always been, it retains a kind of curse certain to visit each and every resident and visitor during the Winter months. For some, it comes in the Fall, but nobody living in this valley through the unsettled season seems able to avoid contracting what the locals refer to as The Crud. I always called it Lewis And Clark Lung, imagining a curse dating to their visit to the Valley after narrowly escaping their demise crossing the Bitterroots. The valley seemed like a little Eden to them, and doubtless was a little Eden in comparison with the Camas Prairie and trackless forests to the East, but curses seem to favor Edens somehow.

The Crud can't quite be classified as a cold.
Slip over here for more ...