30 10, 20 04:34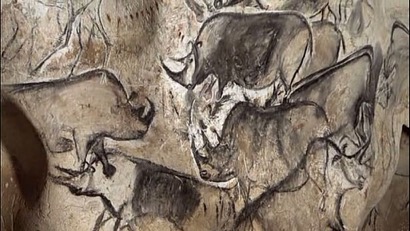 An artistic depiction of a group of rhinos in the Chauvet Cave (30,000 to 32,000 years ago)
"We are much older and more experienced than Our Founding Fathers ever became."

The United States is not the only sovereign nation where serious psychological problems have been codified into the law of the land. However brilliant and breath-taking Our Revered Founding Fathers' work might have been, it also served as psychological self-portraiture, partly aspiration and partly indictable by modern standards. It codified prejudices intolerable in our more enlightened times, just as our entitlements will over time inexorably seem insufferable conceits to those we leave behind us. For instance, our treasured Second Amendment, as presently interpreted, encourages self-destructive reactions to paranoid delusions, so people buy guns to protect themselves from people who buy guns, which further encourages people to more buy guns to protect themselves from people who more buy guns. It's become a recursively runaway psychological social disorder guaranteed by our Constitution: Psycholitics. Each successive generation is more experienced than its predecessor. All carping aside about society's evolutionary entropy, there's ample observable evidence that we're, as a people, actually maturing over time; better coping. Behaviors accepted as representing righteousness have over time become intolerable evidence of racism, classism, misogyny, grand larceny, and murder in the first degree. Conservatives seem determined to preserve some sorry legacies in the interest of decency, a calculation that understandably drives progressives crazy. Of course, contravening historical precedent drives the originalists insane. The result seems to be a Body Psycholitic, a society undergoing particularly difficult ongoing therapy with the goal of ultimately getting over itself. It's also a fairly accurate portrait of Hell, an under-appreciated price of self-governance.

Psychologist and counsellor Eugene Kennedy suggested, "The things about me that drive you crazy are the things that keep me sane."
Slip over here for more ...