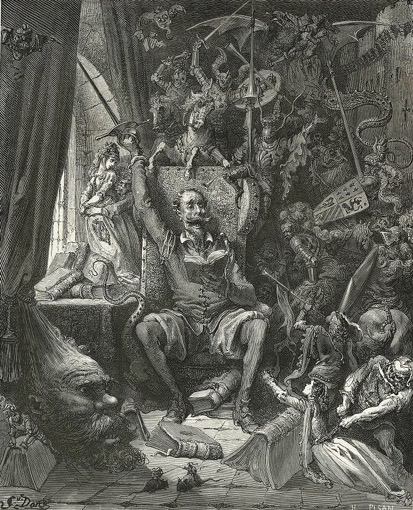 Gustave Doré: Don Quixote amid his fantasies of chivalric romance, the frontispiece to the 1863 Paris Hachette edition of Don Quixote.


"The Pilgrim travels to find himself. He was lost when he left and hoped to be found by fleeing into something greater than he ever was or ever hopes to become. A reckoning occurs along the way, a reconciling, shell with self, restoring something somehow formerly lost along the way. It never matters why." From Pilgrimage, the first WhatNext Posting, 9/21/2020


"Is it ending as I intended?"


I never seem to know how to begin or end anything. I prefer continuums, endless loops, Ouroboroses forever nibbling their own tails. I don't spring cleanly out of any starting blocks. I likewise tend to miss the moment when I cross the finish line, continuing races longer than strictly necessary for them to end. I behave like Wylie Coyote, forever hatching half-again too clever plans and overrunning my mesa top again and again and again. I label this tendency Begending, a blending of both beginning and ending, neither, really, and also both. I deeply respect the inherent ambiguity experience brings, lessons not so much learned as still learning, without convincing conclusions. Impressions remain, mixed in with much inert material. I might wonder forever without ever concluding what any of anything "really" means. As my dear departed friend Jamie used to insist, it was just what it was and, forever, is just what it is, whatever that was and is. The purpose of any Pilgrimage might not be finding the purpose of any pilgrimage.

The purpose of WhatNext might have been its creation, not its conclusion.
Slip over here for more ...