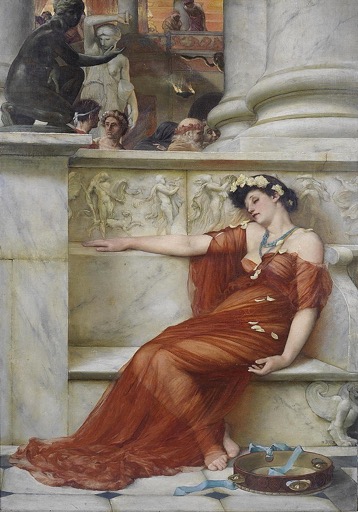 The Tired Dancer: John Reinhard Weguelin (1879)
"I live right up close to that edge."

I've been dog tired before, and bone weary, and sick and tired plenty of times, but I confess to feeling even more exhausted this time. I've put my time in on the factory line, twelve endless hours performing the most mindlessly repetitive motions, but that was nothing in comparison to this subtle sickening feeling. This endless evening in isolation might do the infamous Chinese Water Torture proud for how it cows and humiliates me. Born into a land firmly believing itself to be both proud and free, we're forcibly humbled before an utterly invisible enemy which steadfastly refuses to show itself. Many have already come to believe that this was always an imaginary foe, and every countermeasure an humiliating over-reaction, like fleeing from shadows vaguely flickering on our cave's moist wall. Before each fall came a clear call insisting all was well after all, that we had little to fear beyond an evidently irrational foreboding, and we set to no longer flee from that. Once contracted, there would be no fleeing backwards, back into the SecondOrderFatigue which so convincingly misleads each to presume an invulnerability never evident beforehand. Once infected, we'd experience fatigue for a wholly different reason.

I try each day to reinforce what I fancy to be my protective reasoning, for, like Robinson Crusoe's Man Friday, I feel as though I've been stranded three years, alone on some desert island and subsisting on goats.
Slip over here for more ...