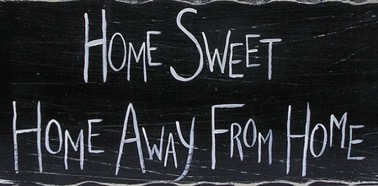 " We move from home to home to home, never to ever come back around again."

On the fifth day, we pulled into the short driveway adjacent to the double shotgun rental. Two of our housemates had arrived an hour earlier, but they'd generously decided to defer choosing their bedroom until The Muse and I showed up. We surveyed the premises: huge and well-appointed kitchen/living room/dining room/library (with library ladder) dominated the front half of the first floor. A massive master bedroom and attached bath with both a soaking tub and an eight spigot full body walk-in shower took the back left and back end of the place, a smaller den bedroom and laundry room, the other. Upstairs, another master bedroom with attached sitting room and bath dominated by a clawfoot tub, comprised the whole second floor. I feigned indifference about which bedroom to choose, choosing to let the others choose, and The Muse and I ended up just where I wanted us to be, in the back downstairs bedroom. The door to the outside patio served me well when I woke rested and disoriented at three o'clock the following morning.

This place would never have been the result of either The Muse or my deliberate design, but it feels home enough after traveling halfway across the country.
Slip over here for more ...