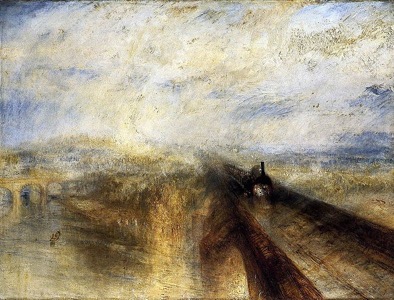 J. M. W. Turner: Rain, Steam and Speed – The Great Western Railway, before 1844
"Distancing seems to open up spaces rarely glimpsed since the transcontinental railroad appeared."

One of my great grandmothers crossed on the Oregon Trail on horseback. The trip took months. Twenty years later, she made the same crossing in a few days by train. If anything most typifies this modern society, ever increasing mobility must be that thing. I remember our neighbors flying to attend a convention when I was small, when jet travel was still a rare and novel occurrence, at least in my neighborhood. Their mom, a slim and elegant woman, wore gloves for the trip and brought back these little packages of three cigarettes they'd handed out for free on the flight. I could see the future from there! Up until last month, planes crammed full of people wearing their pajamas as if they were lounging around on a couch at home, were departing every other minute with fares well under the price of a modest dinner out somewhere. People flew on less than a whim.

We've temporarily traded in our mobility, Distancing in solidarity and/or fear.
Slip over here for more ...