02 07, 20 06:29 Filed under:
NowHere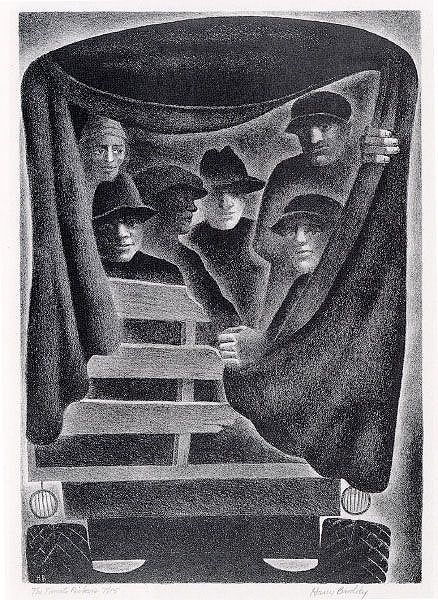 Harry Brodsky, Tomato Pickers, 1938
"It's always a fundamentally unfair fight …"

All insistences that we're a HardWorking people aside, I'd rather not have to work that hard. I'd feel a member of a minority if I didn't look around me. As my brother used to ask, "You working hard or hardly working?" My honest response would be that I was hardly working. I feel fortunate to have found so-called work that seems more calling than indenture, so even engaging long hours in it hardly feels much like working. I believe that even clever Yankees found ways to leave their Pilgrim forebears' HardWork behind, creating passive income streams to replace brow sweat and aching backs. Few seem to aspire to careers solely consisting of HardWork, but most might consent to a period of it in the firm belief that they'll eventually graduate to become one of those shiny-seated suits hardly working in the front office.

Still, some HardWork remains.
Slip over here for more ...