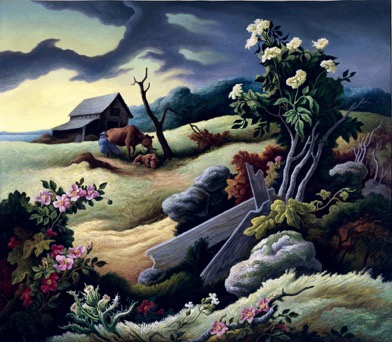 June Morning, Thomas Hart Benton

"It's a HistoryLessen to recognize how little anyone eventually knows."

When I peer into the portraits of my great great grandparents, I find the most superficial representation of these two people frozen in a forgotten moment in time. When were the photographs taken? I'm uncertain. Possibly eighteen ninety, give or take a decade. I know some of their backstory. My grandfather Elza's parents grew up on adjacent spreads in the dryland wheat country of Eastern Oregon's Gilliam County. He, on the top of Hale Ridge, some of the last land grant ground left by the 1880s. She, at the bottom of that ridge beside a year round stream. My great grandfather Nathaniel's chore as the oldest boy left after diptheria took his two older brothers involved herding his family's livestock to the stream at the bottom of that dry ridge to water them and to fetch water for household use, since their property had no water, no well, given that several thousand feet of basalt sat between it and the water table. My to-be great great grandmother Clara's family lived near the watering hole.

That story represents a kind of history which projects whatever image I might choose to infuse it with.
Slip over here for more ...