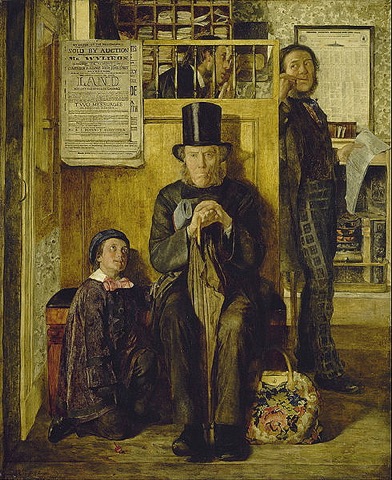 Waiting for Legal Advice, 1857, James Campbell (1828 - 1893) (British)
" … the machine will continue to grind …"

I think of waiting as an adult time out. Most delays amount to SmallThings, a few realigning moments between actual destinations, and I'm learning to simply accept them for what they are, which is never defining, a small interruption to the regularly scheduled programming. A brief respite between some here and there no matter how interminable each might seem. A challenge to cobble together a short alternate to the expected experience. I keep an audio book enqueued on my iPhone or some other worthy distraction which I access to fill in the space. Now that we all have smart phones, every waiting moment quickly transforms into a Facebook or email scan, we're rarely truly idle. Most of our interactions with our government seem to become exercises in patience, at the post office, the DMV, the title registrar, or some other outpost of our humblingly huge bureaucracy. We anticipate these waits, bringing along a newspaper or a book with which to entertain ourselves as we idle. I prefer to watch the machine working in the same way that I gawk at the automated tortilla machine or the juice squeezing juke box when waiting for a restaurant table.

The machine seems to never idle, whether present as a single inadequately-staffed post office window or a dozen numbered windows around a waiting area with actual seating.
Slip over here for more ...