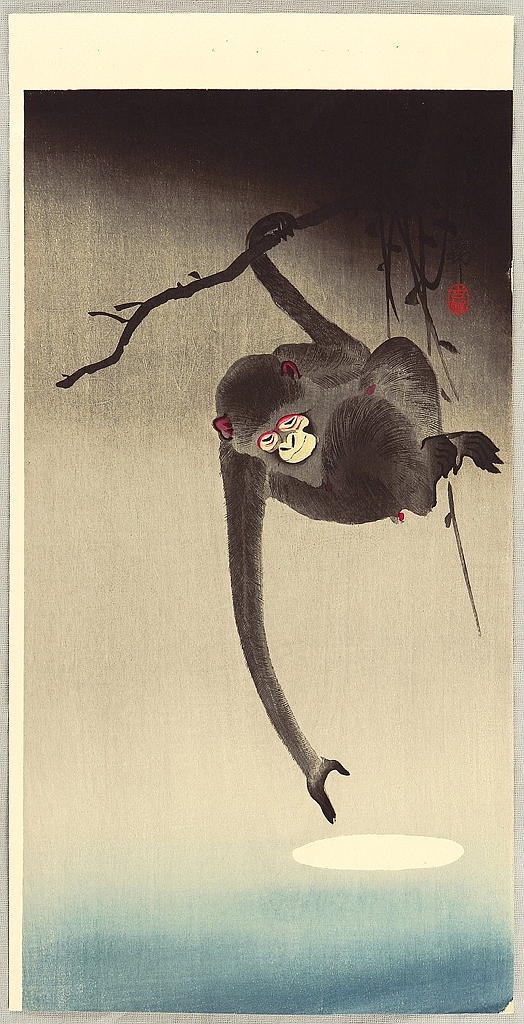 Ohara Koson: Monkey and Moon (Ca. 1900 - 20)
A long armed monkey is trying to catch the reflection of the full moon on the water surface.
"I sometimes, briefly, become the destroyer of my own world …"

I have been using the same blog software for fifteen years but I just barely understand how to use it. It sometimes gives me fits, crashing or otherwise inhibiting my simple demands for it. I chose it over the more popular alternatives because it's a native Mac application and so it works more intuitively, or so I tell myself. It mostly works without me having to know how it works. I'm confident that I only know about 1% of its features, but I almost never need to know any more than that. When I get into trouble, a User Forum provides a channel to connect with users who know one heck of a lot more than 1% of the system's operation. When the User Forum's stumped, I can resort to the developers' help desk, which, being located in Brighton, England, usually takes until the next day to get back to me. It might be every app user's dream to be the one to uncover some fatal flaw in their chosen application, to report it to the developers, and to have them heap praise on the one user who helped them avert absolute disaster. No, that's never happened for me, either. We usually find that my ISP has been messing with me or that I've inexplicably gotten tangled up in my own underpants. I tend to be the source of almost all of my so-called TechnicalProblems.

I complain about the technology, but I increasingly understand that I'm actually complaining about myself.
Slip over here for more ...