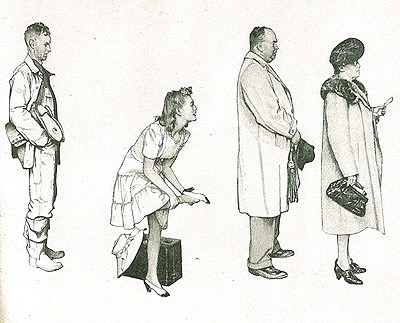 Norman Rockwell Visits a Ration Board, Norman Rockwell, 1944, The Saturday Evening Post

"I'll probably never learn."

The queue seems endless, progressing painfully slowly. I'm suddenly uncertain what brought me here. If I expected service, I know for sure that I have not found it yet or it has not yet found me. The system might have been designed to extract blood as a prerequisite for being allowed to donate blood. I feel like a shriveling turnip, but I will not leave. Once in line, and once hemmed in on either side, I hold territory which seems to need defending. I will not surrender, no matter how inconvenienced I feel. I hold a waning faith, but still some small potential for grace, a hope with most of its shine dulled to buff. I've already had enough but I will not be shouting "Uncle!" just yet, if ever. Probably never!

Some waits weigh more heavily than others.
Slip over here for more ...