14 11, 19 07:09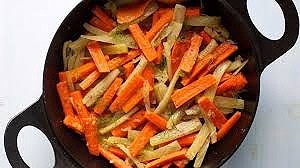 "We both want family for the holidays, but we're settling for turkey again."

By mid-November I've grown weary of braises. My larder looks like a mid-winter Moravian supermarket with overflowing bins of carrot, parsnip, turnip, celery root, potato, garlic, and onion aching for another long, slow, covered bake. I can't bare to bake anything anymore. The quick chop chore, the boring obligatory stock pour-over, the tough cut tucked in underneath, with a splash of wine or cider. This all seemed wilder and more attractive back when it was just an emerging seasonal alternative. Now, it seems like the only game in town and I know for certain, before the first die roll, that Colonel Mustard will have done the deed in the drawing room with the freaking candlestick. Not an ounce of mystery or discovery to be found within any of it.

My menu leaves me feeling stupid, uninspired.
Slip over here for more ...