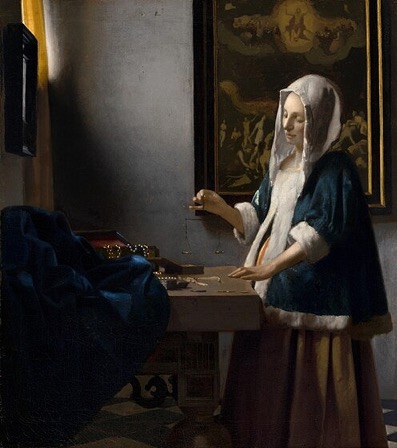 Johannes Vermeer, Woman Holding a Balance, c. 1664, oil on canvas
"Small then even SmallerThings eventually amounting to something, which isn't really a thing at all."

Rather than strive to achieve BIG things, I seem to strive to more fully acknowledge smaller ones. Tiny yet influential seems more achievable than huge and consequential. Worlds move by comparative microns, yet manage to traverse vast spaces. Ideas spark in less than an instant yet utterly transform the person holding them. How finely am I capable of perceiving? Insignificance seems first a product of my own inattention. My salvation might stand right here in the palm of my hand, and releasing its beneficence might require a hero's journey no less daunting than any undertaken out into greater-seeming unknowns. Both journeys begin with denial and offer trials to test the hero's dedication. Both feature dragons and such, and each brings out characteristics the hero always held, implicit becoming more explicit in dispatching each challenge. Heroes aren't so much made as discovered, they emerge through unanticipated recognition. Look, there s/he is, right there. No more than a GlancingKnow ever confirms it.

Understanding serves as a condensation of more vaporous information and experience.
Slip over here for more ...