20 06, 21 03:26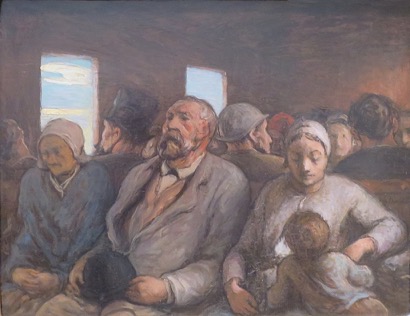 Honoré Daumier: The Third-Class Carriage (c. 1856–1858)
"Everything matters unless it doesn't."

SettlingInto eventually becomes a matter of SettlingUpon. The Muse has not quite settled upon the color palette she wants and the repainting cannot commence until then. I remain unsettled about several possible undertakings, so they're not started yet. As our SettlingInto has continued, the volume of SettlingUpons has grown. Dozens of little decisions define our way forward from here. We've successfully landed here but have yet to fully find our land legs. We're still a little wobbly, our way of living still emerging. Much remains unsettled and, indeed, unsettling so far. The SettlingInto might never end, but its infinity will most certainly be punctuated with a series of SettlingUpons. One day—not today, probably not tomorrow, but some day—these projects we've been envisioning forever will be over. Then we will have settled upon much. While our imaginations might have envisioned first class accommodations, we'll very likely settle for third-class passage and even manage to feel smug about our fortune, largely because we will have chosen, which makes a definite difference.

Deciding, though, proves challenging. I've long contended that choice serves as my chief superpower, if only because when I'm stymied, I can always at least choose again.
Slip over here for more ...