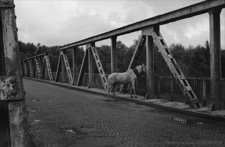 This morning finds me almost back home from our excursion, our toodle, into the DeepSouth. I left with no more than beliefs about what I might find there and I return with some of those beliefs intact, but with many of them thrown into uneasy question. The world doesn't seem to much care what I believe about it and my perceptions of the world might twist whatever I think I'm seeing. I am confident as I return that I did not see The Deep South, but I might have caught fresh glimpses of me perceiving there. To look at something different, even something I expect to be different, qualifies as an act of discovery; not so much discovery of that object, but of my own act of perceiving.

Back home, my anticipation and perception mostly seamlessly integrate, so there's little gradient for me to experience perception, or, indeed, for me to really see whatever I'm looking at. The world convincingly appears just as I expect it to appear. This can be a dreary state, a numbing where the vitality characteristic of discovering seems absent. Leave that familiarity, and more than the landscape changes. I might become more alive.
Slip over here for more ...