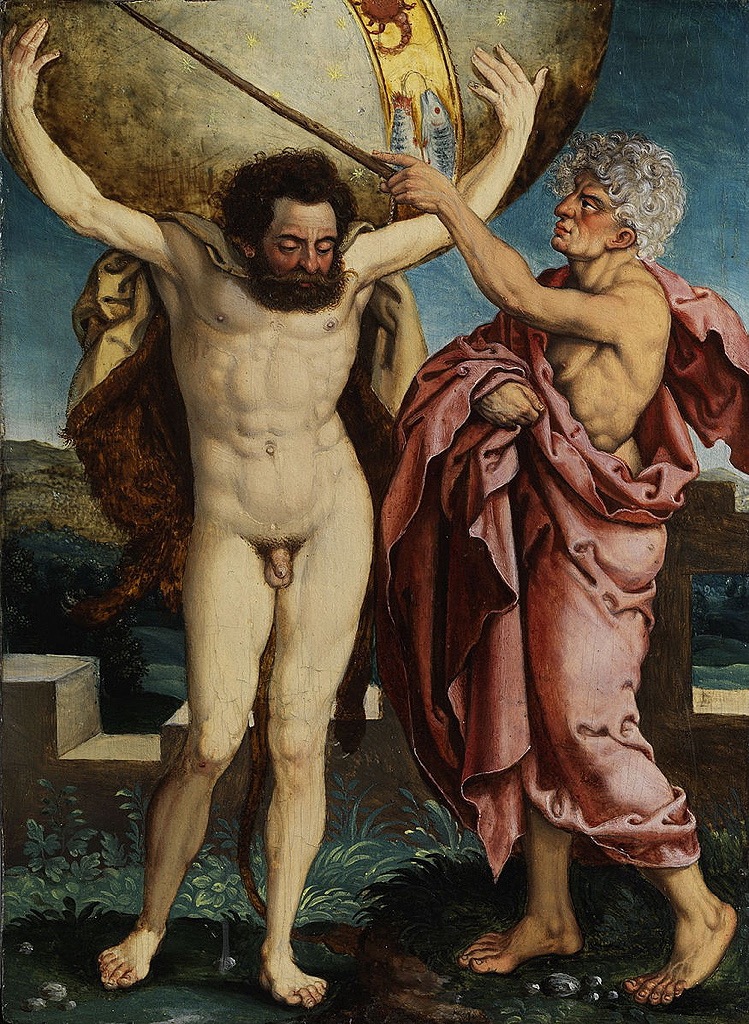 Herkules nimmt Atlas die Last ab und trägt den Kosmos
[Hercules relieves atlas of the burden and carries the cosmos]
In the style of Heinrich Aldegrever (1550)
"The time spent completing the task lost forever. The result, eternal …"

I looked at the final batch of baseboards, which I had uncomfortably stacked inside the garage, and I felt overwhelmed. Most of the remaining boards were long: ten, twelve, even fourteen feet, and though I'd already sanded them smooth and glued the ones that had shattered when we removed them, I could not quite face touching them again. Painting would insist that I touch each several more times, shuttling them between a painting station and drying racks, then back for each top coat. Each coat takes an hour or more for the batch and demands great focus, no breaks allowed, especially once I start applying the final TopCoat. These boards have demanded much, not the least of which has been extended detachment. I know, it might seem as though refinishing a board would be all about engagement, but it's the sort of engagement that insists upon a detachment in order to complete. One may not maintain mindfulness and manage their way through the effort. One must go at least semi-conscious if not completely unconscious or he's sunk before he's finished. One can dabble in removing baseboards, and even when mending them, but once the refinishing starts, expect long hours of demanding toil. Sanding each bare might take an hour per, or more, not to mention sweeping off the sanding dust and washing them then stacking them away out of the weather again, then unstacking and sorting and painting, I never felt completely up to any of it. I just did it anyway because I'm the grown up, GroaningUp to it's more like it.

My father taught me not to whine about my assignments but to buckle down and just complete them.
Slip over here for more ...