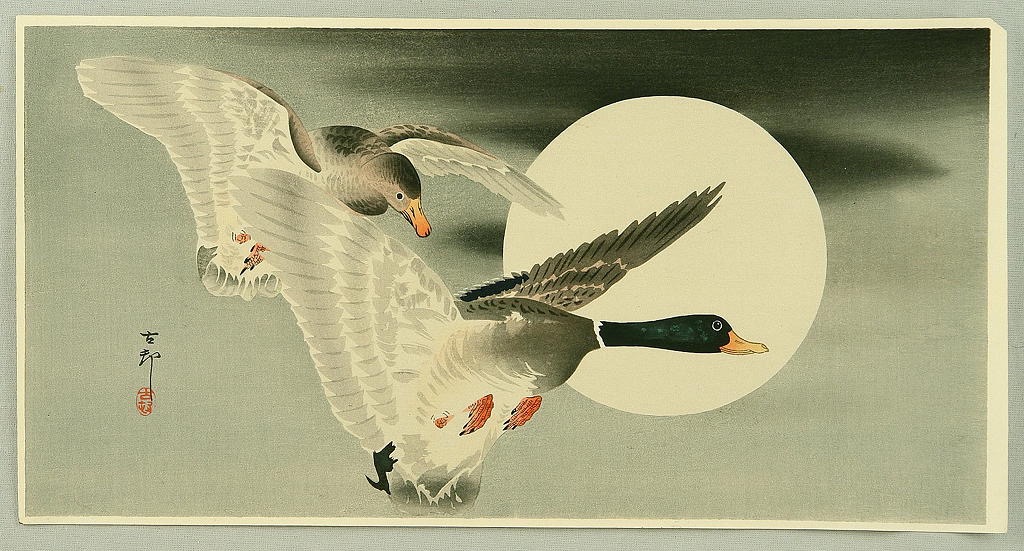 Ohara Koson: Two Mallard Ducks and the Moon (Early 20th century)
"Faith is not unsupported belief but the belief in uncanny experience …"

I recognize that Our Grand Refurbish has elbowed its way into perhaps more stories than warranted or wanted through this series. In explanation if not apology, Our Grand Refurbish has subsumed most of my foreground and background focus for many months. I've recently been bemoaning absences, primarily of closure, for this party's extended beyond celebration and nudged into a wicked form of self-punishment. What began with enthusiasm, albeit naive, evolved into frustration as the end game refused to coherently line up. Each attempt to decisively end the effort found only a fresh barrier preventing further forward movement. Reliable suppliers failed us. Sick days stalled us. Weather drove us inside. We could see what still needed doing but we could not quite manage to get there from here. I knew that something important was missing but I could not clearly state what that something might have been. That absence was not prescriptive.

I recognize that this was always how endings emerge but I'd somehow lost accessibility to that knowledge.
Slip over here for more ...