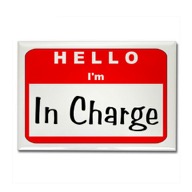 Like you, people have called me boss and I have called some boss, too. I have both loudly proclaimed that 'you are not the boss of me' and
sotto voce
whispered it to myself, mantra-like, hoping it might give me quiet strength in some overly-bossy presence. I knew the person Scott Adams modeled his iconic Pointy-Haired Boss after, and he seemed pretty much the opposite of Dilbert's characterizations of him, but then he was not
my
boss. Someone always seems to get elevated to the enviable/unenviable role of being in charge, whether or not they hold the formal responsibility of judging another's performance. Bossy older sisters hold no charter justifying their pedestal.

Some people seem to appreciate a strong authoritarian presence while others seem to just shrink in that kind of light. Bosses get blamed for everything, since they seem to hold superior responsibility, though they also seem rather incapable of accomplishing much of anything. They represent both the oppressive yoke and the absence of it, depending. They might try to be friendly, but who really wants to befriend someone with the authority to be your oppressor?
Slip over here for more ...