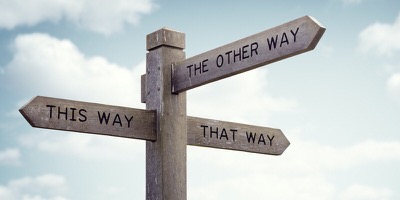 "I remain almost certainly uncertain."

I've grown to deeply suspect certainty of any stripe. My skepticism about even death and taxes sort of drives me forward or at least seems to sustain me. I use the word 'seems' more than any other, for I sense a lurking uncertainty behind my every observation, my every utterance. I dread the day that I might be called to tell 'the truth, the whole truth, and nothing but the truth' because I deeply doubt my or anyone's ability to satisfy that injunction. I might at best prove capable of telling the story as I believe at that moment I witnessed it, but I should remain uncertain if I saw what happened or some mix of projections of what I expected to happen and what never really happened at all. On the face of this confession might lie a tragic disconnect or a godsend of an appreciation. I can't be certain which or even if either might be the case. I suppose that this means I get to choose.

Earlier in my existence, I thought that certainty lay near the purpose of my existence. I might accumulate knowledge such that most of my experience would be wrapped in some form of sure bet. I'd have learned where to walk and where to avoid, what to eat and what to decline, who to associate with and who to shun, but this operation has never actually run that way. The examples I employed to guide me always seemed sufficiently unique as to leave a rather glaring gap between what I knew and what I wanted or needed to know. This apparent feature confused me for the longest time. I vacillated between believing myself rather stupid or terribly insightful, again uncertain which pole to properly classify my confusion. Only the absence of certainty seemed defining, and if certainty served as the success metric, I could only properly classify myself as a serial failure.

The Muse can testify to the number of situations I shrink from.
Slip over here for more ...