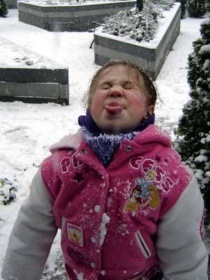 Seasonal greetings to anyone passing by here.
I have long held the tradition of writing a series of Christmas poems. The rules of engagement are simple. Each poem must be written between Christmas Eve and Christmas Day (with a strong preference for before Christmas "morning", which I define as "before people open presents.")
I usually manage something between six and a dozen poems. In the past, I've written a unique poem for unique cards, painting an image that melds my feelings about the person and the picture on the card. This year, I decided to do a series of poems inspired by a single image, one of a youngster catching snowflakes on her tongue. The whole poem cycle, then, is entitled Catching Snowflakes On Your Tongue, which seems to encapsulate my feelings about this Christmas season this year.
Regaining lost innocence emerged unbidden as the overall theme.
Here's one from the series, written for a very special someone and posted here for all of the likewise very special someones who peruse this blog.
"There are so many," she whined, standing knee-deep in the snow.
"I haven't a chance to make a difference, unless it's falling slow."


Slip over here for more ...