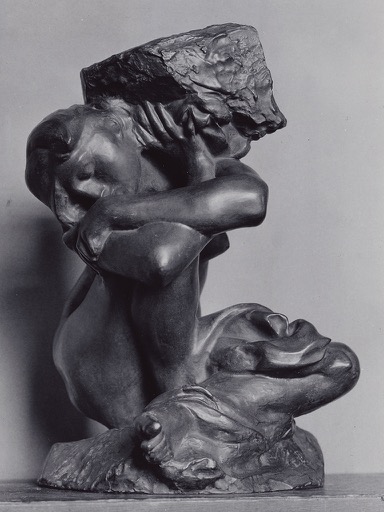 Auguste Rodin: The Fallen Caryatid Carrying Her Stone (Modeled 1881–82, cast 1902/24)
"HomeMaking is first about making the HomeMaker, then about making a home."

I'm unaccustomed to thinking of HomeMaking as a distinguished occupation, but like every occupation, HomeMaking involves making distinctions, Distinguishing. Considerable judgement also seems a necessary element of the effort, for a HomeMaker must do more than distinguish difference, but also determine if any intervention seems necessary and if so, how much. I imagine a huge chart denoting forms and degrees of engagement, something like:
If rough, smooth.
If smooth, texture.
And also listing the ten thousand primary elements of HomeMaking, but the pattern would quickly emerge as simple, and as fundamental as evolution:
If not right, fix or tolerate
If right, preserve or improve.
I catch myself in endless judgement of my surroundings, the better, I presume, to render them more properly like home. Not into Home but into more Home-like, an analogy. I perform this service by means of my Distinguishing. I exercise my judgement by first distinguishing. The quality of any resulting engagement feeds my judgement engine which might improve my Distinguishing. It all starts by noticing something. HomeMaking, like everything, utterly depends somebody first observing something.

There might only be five fundamental HomeMaking Distinguishing Elements: Context, Condition, Size, Shape, and Color.
Slip over here for more ...