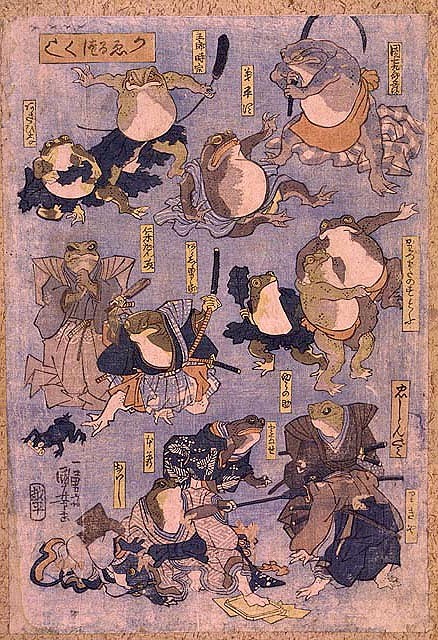 Ichiyûsai Kuniyoshi: famous heroes of the kabuki stage--played by frogs (circa 1850-1860)
" … dreaming to make that dream come true …"

The upstairs hall ceiling had troubled our painter Curt from the beginning of his work. He wisely set aside his concerns through the first two weeks of preparation work. By then, he'd painstakingly sanded out and primed the bannister and knocked the high points off the walls, pulled baseboards in the entry hall and fixed every ding between the front door and the stair top. Then, our series of muted conversations about the ceiling came to something. He confessed that he could see no way around Floating the damned thing, a comment of which I didn't quite know its meaning, but I nodded gravely, as if discussing a sick child. Curt listed the alternatives, each of which seemed filled with shortcomings, but he wanted this to be my decision. HomeMakers sometimes find themselves in this position, as if a wise parent or something, called to decide about something they have no clue about. I asked him to describe what Floating might entail.

It would, as Curt described, require three sets of probably two hour stretches, poised atop his four footer, smearing goop over the present ceiling covering.
Slip over here for more ...