HisStory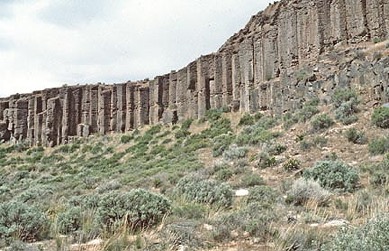 Columnar-blocky jointing basalt, Frenchman Coulee, west-central Columbia Plateau, Washington (photograph by Terry Tolan)
" … homesteading beneath this grass."

The morning reached out and enveloped me. We were toodling, our first real diversion from our regular routes since returning from our exile. We could conspire to tend ancestor graves, a chore that went begging during our absence. One corner of my mother's family arrived late to claim their section under The Homestead Act. Their piece of Oregon was not located anywhere near the Eden portion of the end of the Oregon Trail, but short of The Cascade range in rimrock country. Even today, that country is more sparsely populated than it was before the European settlers like my ancestors came. They came to claim their part of the American Dream, which must have seemed more like a nightmare to them at times. Evan and his lovely wife Sarah (nee Jackson) Wallace, who was the spitting image of my mother in her later decades, came west not by wagon train but by the Northern Pacific and stagecoach. They waited out their homesteading claim working for a family who'd already improved theirs, living in a tent on the property through their first Western winter. They lost two sons to diphtheria, leaving my great grandfather as their oldest heir.

We drove what must have been the trail Evan and Sarah took up to finally perfect their claim. Up through unpromising draws holding barely seasonal streams. They would attempt extreme homesteading, for their section sat atop three thousand feet of basalt with no water and no hope of water, either. The boy, Nathaniel Parker, would morning and night drive their stock to the bottom of their bluff to water at a creek below. The daughter of an adjacent family drove their stock down to the same stream. She would later become my great grandmother, a woman I only knew by her unlikely moniker of Grandma Best. She used to send my mother fresh Calla Lillies from where she'd retired on the coast. One day delivery by parcel post.

As we pulled up and out of Pendleton, the textures seemed most prominent. The land appears barren, with distant horizons, unlike when driving through some fecund forest. There, the landscaping limits perspective so that much of what you experience has to be imagined. One does not see very much there, just the leading edge of scenery, but out here in rimrock country, you see forever, perhaps further. The road twists and loops back upon itself. The posted speed limit seems irrelevant. We creep into our history. The Muse and I have made several forays into my past, but not for ages, not since we almost lost our toehold homestead ourselves. Evan and Sarah eventually came to lose their place and moved into a town so disheveled it hardly warranted naming the place. This would be the town I'd be born into, the one I gratefully left at age eight months, the place I would always proudly proclaim was a good place to be from, prouder still to no longer be living anywhere near there. It's more like visiting a third world nation than native soil. My forebears are buried there.

A dust devil rose in an adjacent field just as I was walking up to my grandfather's stone. I was there the day we planted him, shocked at how permanence had intruded into the end of my Woodstock summer. He was labeled a pioneer on his driver's license, which I suppose gave him access to special deals on his hunting and fishing licenses. He died on an elk hunting trip up into The Blues. Veteran of WWI, though only seeing action at Fort Dix, awaiting transport to France until the armistice came down. He returned to Ft Lewis, mustered out, then returned to rimrock country where he'd herded his father's sheep after dropping out of school after third grade. A woman with a child followed a few months later, though he denied paternity. The child died and the woman returned to New Jersey. He became a carpenter and a laborer and eventually husband to a woman named Ruby, offspring of two step siblings, a common enough occurrence in frontier towns. I knew her parents but never met her. She departed before I was born, but her mom survived into her nineties to rock me on her ample bosom in the rocker The Muse later reupholstered but which still squeaks like in my earliest memories.

It's burgers and fries at the only place in town before we head out to the cemetery to tend graves which don't need much tending in this arid place. This was my first on-site restaurant meal in a year and a half, accompanied by that special fry sauce you can always find in rimrock country but whose secret recipe can never be duplicated at home. I felt special already, memories flooding me. Part of HomeMaking involves visiting the past. One simply must, occasionally, leave the home one's making to engage in a remote ritual, one infused with emotion and stories. We repeat these stories like mantras to invoke our beings. We're here. They're past. One day, we will join them, homesteading beneath this grass.

©2021 by David A. Schmaltz - all rights reserved