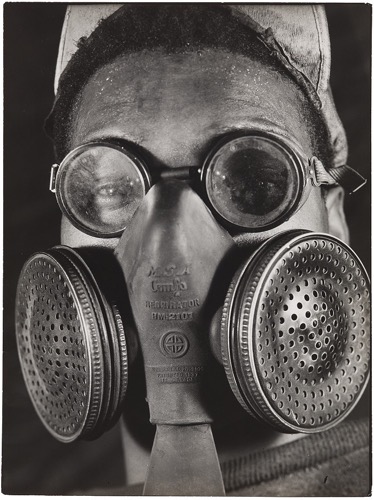 Margaret Bourke-White: "Atomic Number Thirteen" (1939)⁠

⁠"No longer simply SettlingInto, but here, home at last."


Nine weeks into this SettlingInto saga and we're still beset with boxes. Each week, we make a little headway, but after the earliest days, unpacking has remained an intermittent element of our lives here. I chose to leave my library in boxes until after repainting and flooring work's completed. I didn't relish restocking shelves just to have to tear them down again in a few weeks or even a few months. Consequently, we've developed blind spots. One opened box has stayed in the same place, half unpacked, since the early days, so long that its presence has become normal and therefore invisible. No urge to finish the job overtakes either of us. We hold higher priorities. The Muse invited a couple over for supper and insisted that we tidy up the place in preparation. I sensed a fierceness behind her request for a little help, knowing that I would be in for something. She jumped in before breakfast, focused. I joined in later, but since I was cooking and she, alone, held the grand intention, I got off easier, just vacuuming and cleaning my bathroom. Nine rooms and a grand staircase later, I felt less like a slacker. The only way I could imagine cleaning the shower was to take off my clothes and clean while showering, a semi-humiliating resolution.

The Muse reorganized the kitchen (again) while cleaning it. I found space to more permanently place clutter thriving on our inattention.
Slip over here for more ...