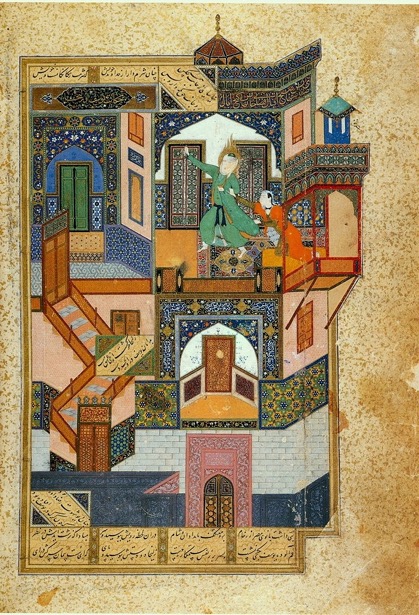 Behzād: Yusuf and Zulaikha [Joseph chased by Potiphar's wife] (1488)
A Persian Miniature- A LittleThing
"The lovely Beaux Arts theater stands empty but still as beautiful as it ever was."

No Colossus of Rhodes guards our harbor. Heck, we don't even have a harbor. At night, the first evidence that you're approaching a small city tends to be the lights glaring up from the penitentiary, which produce a false sunrise on the eastern horizon all night long. During daylight, a vast debris field of derelict train cars surrounds two long-abandoned grain elevators. A single tall-ish tower of a building looks out of place beside blocks of much shorter structures, some dating back much more than a hundred years, but many evidence that the fifties and sixties passed through here and set down roots. A few motels flank the few exits from our short miles of four lane designed to route traffic around rather than into here. The welcome seems less hostile than indifferent. Few cues immediately suggest that this place is different from any other dusty western city. The differences lie deeper, within LittleThings.

A local college whose sports teams were until recently called The Missionaries maintains the obligatory Gothic architecture section of town.
Slip over here for more ...