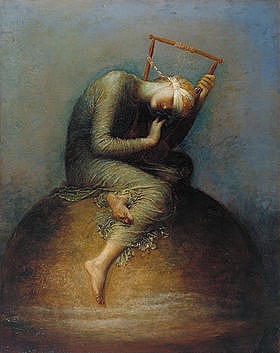 Hope by George Frederic Watts, 1886
This image shows a lone blindfolded female figure sitting on a globe, playing a lyre that has only a single string remaining.

"This relentless siphon started defying simple gravity long ago …"


My hop vine, grown seven feet in a few short weeks, sparked my insight. I've come to think of it as my Hope Vine. I'd been reveling in spring, the great respite from winter's ravages, and wondering what I was witnessing, for this fresh season's beneficence seemed … what? … oh yea, Relentless. There has been no stopping it. A crashing hail storm pock-marked a few of the more delicate leaves and blossoms, but the expansion continued in earnest the following morning. The seeds I sowed without really knowing what they might become quickly sprouted and not even the neighbor cat using their planter for his bathroom discouraged their attempted dominion. Even the chokecherry, blighted as it seems, threw out fresh branches and suckers. Not even the endless-seeming setbacks through winter seem like barriers now, for I know how their progression turned out, or at least how it's turned out so far. A clear expansion relentlessly continues, with seemingly ever greater passion, no obvious end in sight.

We inhabit a tenaciously positive feedback loop where nothing seems capable of slowing or turning forward momentum.
Slip over here for more ...