31 08, 20 05:37 Filed under:
NowHere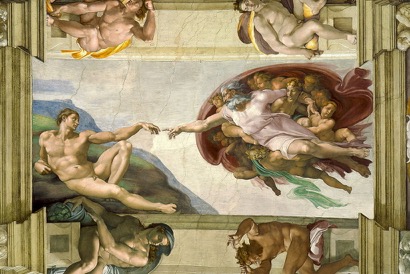 The Creation of Adam; by Michelangelo; 1508–1512
"We're never less powerful than when we're armed and asserting our folly as some GodGiven right …"

I was up early again this morning pondering how I might distinguish between the various rights asserted by those around me. The right wing gun nuts insist that they merely enjoy a GodGiven right to bear arms, though I recall no actual scripture reporting the granting of this authority. Others proudly sing that God somehow "shed his grace on thee," which I interpret as meaning "God shed his grace on me", or somebody, though I have no clue what shedding grace might entail or what might logically result from this act. Mention of it does seem to reliably encourage pride, the sort of pride which supposedly does not immediately precede a fall of any kind. Grace seems the iffiest of gifts, whomever might bestow it, for it always seems more resident in the eye of the bestowed than anywhere else. In spite of the widespread belief in the existence of godless heathens, each and every war ever fought seems to have been engaged in by self-certified God's own representatives on this earth versus self-certified God's own representatives on this earth, and expressly for the greater glory of God; not their God, but the one and only true God, who just happened to be on "our" side.

God gets used as an excuse for almost everything, and I suspect that she's not all that pleased with these attributions.
Slip over here for more ...