10 08, 20 04:51 Filed under:
NowHere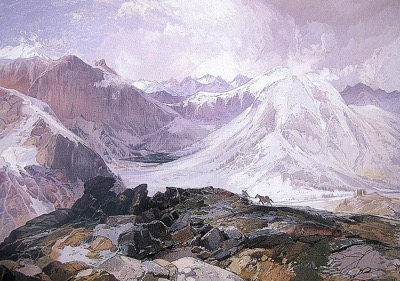 Thomas Moran: Mosquito Trail, 1874
" … a full immersion experience one can almost bring back home with them."

This Damned Pandemic encourages a discernment and detachment in me. I no longer feel free to enter just any establishment. As if I possessed a picky palate, I simply will not enter any restaurant, not yet. I might consent to a drive through or an accelerated step in to grab something to go, but I will not slow down long enough to even leave a footprint on my way through. I wake some mornings aching for a decent order of hash browns smothered in green chile gravy like only an authentic greasy spoon diner can produce, but I will not reduce myself to enter any such establishment. Not yet. Not now. I sense that I'm becoming somewhat of an expert at TakingAPass, just driving past though my desire might compel me to stop. I sense myself a budding aesthetic, like a solitary mountaintop meditating wise man, though I know for certain that I remain a simple wise guy deep down inside. I'm TakingAPass because I've grown to distrust all reassurances that we're bringing This Damned Pandemic under any sort of control. We're still learning how this devil works, and until we deeply understand it, I will continue to choose to just drive by most roadside attractions, even when I'm starving for that plate of smothered hash.

Living in Colorado offers some compensations.
Slip over here for more ...