MendingNets
29 06, 20 08:48 Filed under:
NowHere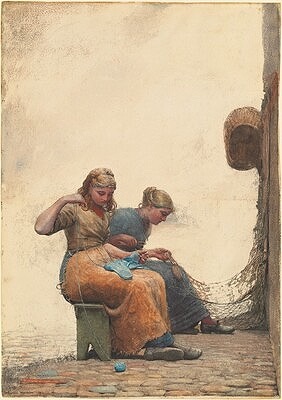 Winslow Homer, Mending the Nets, 1882
"When becalmed, mend nets."

I woke to the sound of my neighbor running a generator beneath his fifth wheel, a whale of a vehicle he surrounds with an annoying puce LED string when he parks on the street overnight. It provides just enough light to prevent anyone from plowing into it and just a tad to much for us up on the hill above to enjoy total darkness. Morning brings his predictable puttering, for he looks as though he and the missus will go camping this week, taking their whale up to some sprawling campground to, as they say, get away from it all. This morning brought a strange stillness, for the usual dawn winds failed to show up for work today. They usually get the conifer tops to tipping and whip around the aspens and cottonwoods, preventing any watering without wasting at least half of the precious water. This morning's dead calm, though, and it seems as though I'm missing a dimension. My usually animated world turned into a line drawing.

When becalmed, the fishing fleet would mend nets, for to idle away any day seemed tantamount to sin. Mornings which in ordinary times would send them flying over the reef, sometimes left them with boats on the beach, providing excuses to catch up on all the maintenance ordinary times prevent. One simply must relent to the superior forces of nature. A livelihood utterly dependent upon forces of nature they could only respect without ever mastering demanded a certain humility, for vanity would soon be crushed by nature's superior and insidious forces. One might survive a storm, but it would be better if one could see one coming and head home before it hit, for storms could never be reasoned with. They bring an irrational indifference to whatever one might hold dear. One might hold on for dear life and later simply refuse to discuss what happened out there.

This morning's dead calm caught me unprepared to shift gears, for I still live in sacred anticipation of whatever I imagine might next come. I feel no more in control of anything than anyone, but I find my groove and do my best to stick within it. I had not imagined that the sudden absence of the dawn wind's insistent cadence might throw off my timing, but I it certainly did. Not hearing another dog not barking, I could not detect a source for my disorientation. I decided to head back to bed, a necessary indulgence, I convinced myself, to clear my head. But my head was not stuffed with anything other than the absence of an expected buffeting. No breeze. No tempest. No nothing inhabiting that odd dimension, such a constant companion here that I had grown to hardly notice its presence, and certainly not its sudden and complete absence.

This morning seems suspended, with inadequate momentum to fly. I decided this might make a fine day for stock making, an opportunity to finally empty out the freezers of all the vegetable trimmings and butts, and all the leftover chicken carcasses. Not even the largest stock pot proved large enough, so I decided to start two: a turkey and chicken one and one dedicated to duck, employing those duck feet The Muse found on last Saturday's larder run. Making stock serves as my rough equivalent of MendingNets. It's a fine occupation for a kitchen not conjuring up any actual meal, though its product will accompany pretty much every meal thereafter. It's a slow process, demanding divided attention, yielding a product hardly worth mentioning. Nobody mending a net might know what fish it might later snag. My stocks will stand ready to hand behind every supper I later create.

When becalmed, mend nets. With the frantic pace of our previous, pre-pandemic lives, we might have forgotten the fine art of net mending, and we might have lost the fundamental understanding of the humbling arts essential to each active profession. Fishing's not just about fishing, but includes some necessary periodic net mending. Writing's just the same. Some days, profound winds fail to show up for work, but even when (and especially if) they're absent, a raft of other necessary activity might be engaged. Stock making, in a sense, net mending, simply inhabiting a NowHere without intending to inspire anyone, not even itself. A rare windless morning leaves me feeling disoriented and curiously buoyant, MendingNets, making stock, making do with what I've got.

©2020 by David A. Schmaltz - all rights reserved