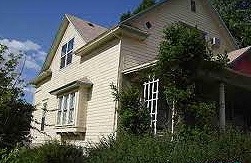 "New owners are raising their kids within those elegantly crooked rooms and quirky yards …"

By the time I'd grown up enough to move away, I knew every square inch of that short acre. I even knew what lay beneath the landscaping, having scraped, crawled over, or cultivated every corner. I knew that the back forty, as we called the yard behind the garage, lay atop an old creek channel, and so the soil was deeply plated with ovoid rock that drained much too easily. The side yard had been planted over an ancient septic pit. The grass grew much lusher there. Dandelion and plantain favored every inch of the property and required continual scrutiny and counteraction throughout the growing season. We used to spread coal ash clinkers along the driveway in the wintertime. I'd personally dug out the bed alongside the driveway innumerable times, always finding a few half-petrified cherry pits from a tree we'd cut down decades before. I'd fill an old metal wash tub to overflowing with weeds, unwanted roots, and the Silver Maple's helicopter seeds.

TheOldPlace passed out of the family after my father passed.
Slip over here for more ...