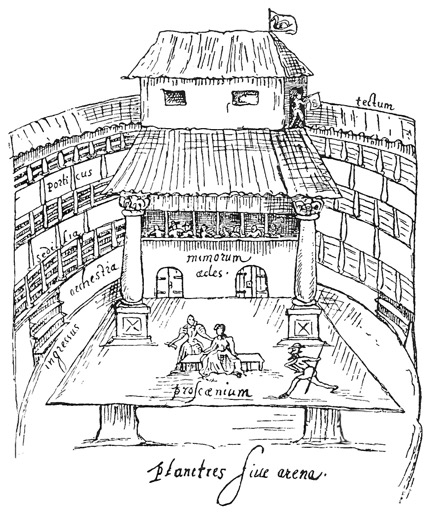 A 1596 sketch of a rehearsal in progress on the thrust stage of The Swan, a typical circular Elizabethan open-roof playhouse
"We somehow seem to stumble into happy accidents, anyway."

Any change, even HeadingHomeward, will most likely introduce both some drama and at least a little trauma into a life: Drauma. My father forever wondered why people could not just leave well enough alone, for he'd come up through a Draumatic childhood. Then he married my mother who, though perhaps not at first a fully fledged drama queen, at the very least certainly qualified as a drama princess. Full queenship followed. He never escaped the sturm und drang, however much he might have preferred an alternate experience. There was always, always, always something threatening domestic tranquility, though, gratefully, usually little more than minor soap opera productions. He'd just be settling in for the evening, kids finally on the way to bed, when my mom's cousin would stop by to see his favorite cousin BonBon, upset the stabile force field, and maybe fall off the front porch in the process. My dad despised upsets though he never managed to shake their intrusion.

I'm little different. I much prefer the old status quo which, if only because of its aging status can never hold on for nearly long enough to fully satisfy me.
Slip over here for more ...