04 03, 21 04:45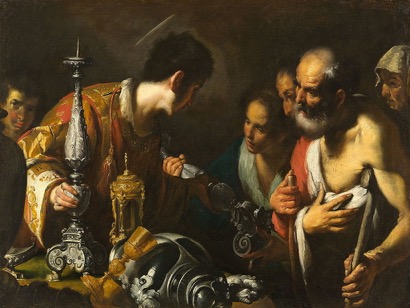 Bernardo Strozzi: St. Lawrence Distributing the Treasures of the Church (circa 1625)
" … maybe—just maybe—The Muse was counting cards again."

Board Games bore me. Trivial Pursuit seems aptly-enough named and begs a big "Why?" from my corner of the room. Sorry, likewise, seems properly, even preemptively labeled. Card games might show off some player's memory and observational talents, skills that seem to hold little relevance for me in my world. Though Fundamentalists might strongly disagree, I firmly believe that this universe operates quite skillfully by employing simple randomness, though I freely admit that this belief fails to produce the most compelling explanatory stories. Being human, most of us can concoct some fable revealing an underlying strategy or a subtle conspiracy holding everything together. Anything's better than the same old tale of random molecules disinterestingly bumping into each other, though the more exquisite stories insist that some God or other attends to even this tiniest level of detail. Bored Games, like religions, seem like attempts to fool ourselves for our own amusement.

Even the ancients found reason to amuse themselves by drawing clever conclusions based upon the results of rolling dice, a stunning paradox many might have missed.
Slip over here for more ...