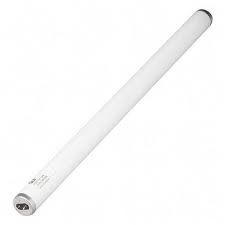 I have a tenuous relationship with electricity. Just a couple of years ago, I finally conceded that it exists. Before then, I considered it a form of mass hypnosis. Sure, I'd wired in new fixtures, but I'd relied upon the circuit breakers to confirm if I'd connected them correctly. Even then, I once installed an outlet that delivered barely enough 'juice' to turn the fan in a hair drier, but not nearly enough to heat its element. Ohm problem or something, I guess. I resolved that difficulty by reinstalling the old light switch instead of the switch/plug combo that I thought should have worked.

The new place has florescent fixtures in the basement. The one over the laundry area works fine after I whap it on one end a couple of times. One over the workbench looks unused new, but was missing the tubes, so I headed back to the hardware store. I'm there two or three times every day since we moved in here. I'm getting to where I don't get lost in there nearly as much.
Slip over here for more ...