24 05, 22 05:13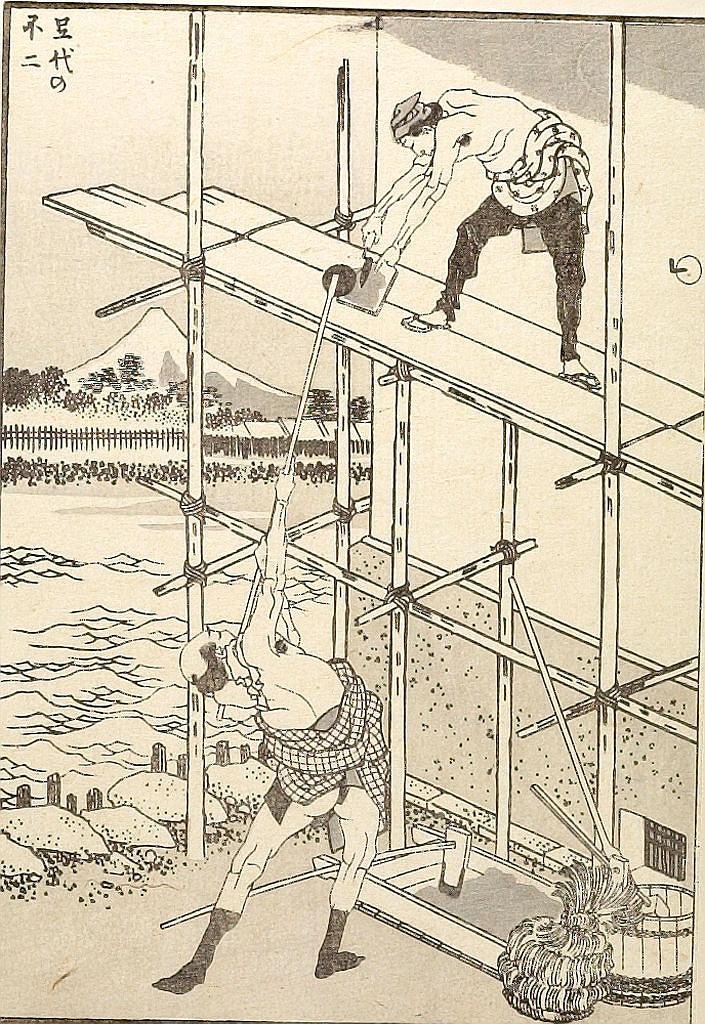 Katsushika Hokusai 葛飾北斎: Fuji with a Scaffold,
Detatched page from One Hundred Views of Mount Fuji (Fugaku hyakkei) Vol. 3 (circa 1835-1847)

"The next slice will very likely seem completely different …"


I expect some controversy to continue into the far distant future whenever the question of change enters the conversation, particularly whenever the question of how much shift constitutes a "real" change. I contend that infinitesimal shifts might carry significant impact while others contend that nothing very short of a tectonic event creates much difference. I'm noticing, for instance, just how much difference I experience after I finish MovingScaffolding. I yesterday relocated the tower just two lengths down the wall, a distance of about a dozen feet, yet when I hoisted up the pieces to add the third tier, I felt as though I was standing in absolutely uncharted territory. The sea legs I'd so ably demonstrated atop the prior placement abandoned me and the shaky involuntary twerking motion had moved back into my legs again. I realized that I would have to relearn my whole scaffold repertoire, just like every time before. Twelve feet proved ample shift to qualify as significant.

I began the moving back into ritual, placing a plank across the top support, eying the electric service wire with fresh suspicion.
Slip over here for more ...