LittleBoy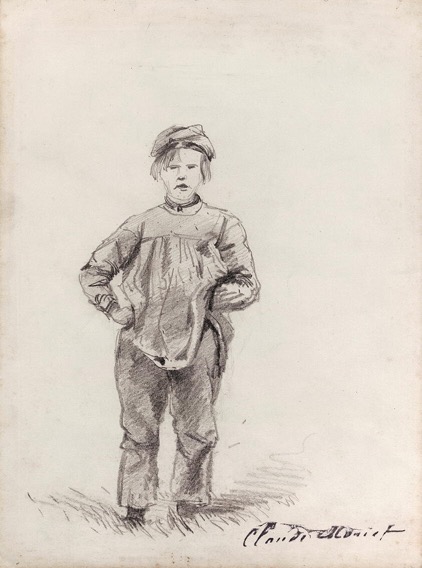 Claude Monet: Boy in the Country (1857)

"May I never grow weary of yearning."


I take it as a first principle that every adult male carries a LittleBoy around inside him. Some days, the adult's in charge, but many, he's not. More often than most adult males will admit, their LittleBoy has taken control. No telling what might happen then.

The LittleBoy can be kind or cruel, generous or stingy. His ethical and moral foundations remain under construction, so his behavior can seem inconsistent. He's capable of self-destructive petulance and also self-destructive generosity. He can take more than he needs and give more than he can afford. He can demonstrate a rather reptilian view of the world and also show a world filled with fuzzy lambs and bunnies. He always tries to play fair. He'd really rather not submit to a haircut. He can only keep up appearances for so long. Sometimes he just has to, in spite of himself, crash and burn. Some mornings, he's afraid to step out of the house.

He's of greatest concern when he's quiet as a mouse, when you've not heard any corny jokes escape from his mouth for weeks on end. He can be sullen and feel terribly alone. He might not be able to ask for some things he needs, things he might believe might classify him as a baby. He can be the most baby like when he pretends to be grown-up, all mature and stabile. Imagine him, when he's all suited up, wearing stilts or barefoot, for it's then that he tends to need to remember his roots, the ones he never out-grew, the very ones he's inevitably still connected to. Do not be fooled by any apparent cruelty, he's still his mamma's LittleBoy inside.

It's difficult to accept, when engaging with people guilty of big boy crimes, that they were committed by someone carrying a LittleBoy around inside them. It might have even been that LittleBoy who committed those offenses with his occasionally unruly big boy body. Some days, when hurrying on my way, I want to just lay down beneath a tree and stare up at the bees pollinating there, and not care what anyone else sees or thinks of me as a result. Sometimes, I'd rather be as invisible as the LittleBoy inside me seems to be to almost everybody else, so that I might be stealthier in this world. I'd usually rather leave those smaller footprints and spend my days discovering fresh than retaining and demonstrating all I was supposed to have already learned. I'd rather play hooky.

Please let me keep learning as if I were still eight years old and preternaturally interested in everything. May my world remain an adventure. May I remember that I was born to be an explorer, not some settled landowner or grumpy attorney. I'm supposed to not know everything yet and be actively learning, proud of my modest accomplishments and satisfied with my humble beginnings. May I remember that I am just now setting out, just starting my journeys. May I never grow weary of yearning. May I submit to naps with sincere reservations and dream in revelations. May I never forget the LittleBoy duet I carry on within my chest.

©2022 by David A. Schmaltz - all rights reserved