18 03, 20 03:44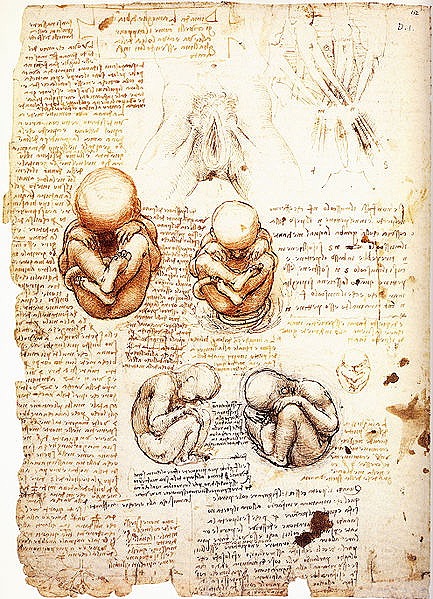 Studies of the Foetus in the Womb, 1510-13 by Leonardo da Vinci
"The long-procrastinated change finally comes as if in a lightening flash."

The National Weather Service predicts eight to sixteen inches of snow for this last day of winter and tomorrow's first day of spring. I worked all day outside in my shirtsleeves yesterday, rearranging everything in the garage to make room for that long-dreaded second car. The little voice in my head had insisted that it could not be done, two cars could not possibly fit into our two car garage, though most of our neighbors manage to fit two into their's. Our situation seemed somehow different. "None of our neighbors need to store a king's ransom in clay flowerpots in their garages," said that little voice in my head. "Store them somewhere else," my exasperated gut whispered in response. I dutifully schlepped that king's ransom of flowerpots down the steep sidehill and neatly stacked them on top of a carefully laid tarp, sorted by size, and bordered by innumerable cat litter tubs filled with last year's potting soil. The result looked like a bivouac supply base for a garden troll army, charming and primitive. By the end of the day, two cars sat parked in that garage.

I'd walked through that garage every day since the last time I rearranged it, averting my eyes.
Slip over here for more ...