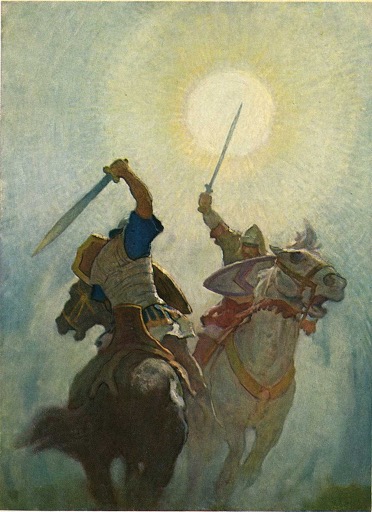 Illustration from Legends of Charlemagne by Thomas Bullfinch, Illustration by N. C. Wyeth, 1950
"What fantastic mural might W. C. Wyeth have produced to depict MY story?"

Mary Colter, famed designer for the Fred Harvey hotel chain, always began her work by creating a rich fantasy about the building she intended to design. These fantasies had nothing to do with historical accuracy, but with design coherence. When faced, as designers inevitably are, with trade-offs, she'd refer to her fantasy to determine which alternative most closely cohered with her underlying story. Her La Posada in Winslow, Arizona, though partially dismantled into railroad offices in the sixties, still exudes a fantastic attention to small detail. A guest feels a sense of every element being precisely in its place, right for its purpose. From the wide hacienda porch around back to the great room tucked between the first and second floors, even down to the inconveniencing absence of an elevator, the place seems to be precisely what it purports to be, the legacy of a childless Spanish land-grant holder who bequeathed his inherited one hundred fifty year old home. It was none of that, of course, except Colter's Fantasy Led-Gend seems to have made it so.

I had concluded that a guiding vision needed some grounding in reality, but I might have wrongly concluded.
Slip over here for more ...