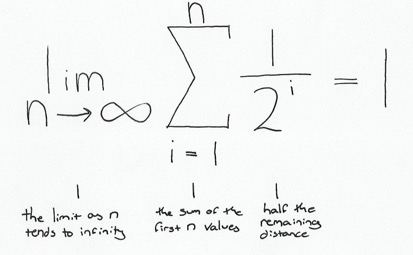 " … it's subsequent sortings all the way from every here to every there, to the end of every line"

With his Dichotomy (illustrated above) the Ancient Greek Mathematician Zeno proved long before any of us were born, the logical impossibility of moving between any here and any there. While his logic was sound, his conclusion, curiously, was not, as I just demonstrated by walking all the way downstairs AND BACK! Logic works like this sometimes.

In my youth, I took a job as a bull hand dancer in an asparagus factory. My job involved performing the first sort on freshly blanched asparagus passing along a conveyor belt. Lift truck drivers in blue hard hats would dump huge steaming bins of the stuff replete with everything from chunks of fence post to freshly steamed snake and mouse carcasses which needed to be removed from the stream, and not only because they wouldn't fit into the little white containers which would later be flash frozen, labeled, and rushed to the frozen food section of local grocery stores. The first sort was rough, nothing like fine finish work. I'd yank out the obviously awful and line up as many spears as I could given the conveyor's speed. A long line of secondary sorters beneath my position on the conveyor performed ever finer sorts, resulting in containers capable of passing the quality control inspector's gimlet eye at the far end of the line.
Dichotomy works like this.
Slip over here for more ...