A Mentor Passing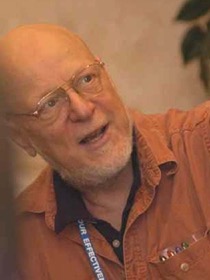 "He didn't need to say anything else."

I suppose that Estranged stands as a valid phase of every mentoring relationship, for these sorts of associations were never chartered to become eternally continuous. They serve as leg-ups, nudges to help someone over some hump and somehow putrefy if overly prolonged. I think that both parties understand from the inception that the terms of engagement won't allow for real friendship to emerge, though the exchanges always seem warm enough.

My relationship with Jerry Weinberg, who passed yesterday, lasted about fifteen years, which is long by any mentoring standard. It started when I found one of his books, On Becoming A Technical Leader, in a bargain bin while on one of my Saturday date nights with my first wife at Powell's Books in Portland. I was so taken with the book that I bought a box full of copies to pass out to my work colleagues. In that box was a card declaring that Jerry and his wife Dani delivered a workshop called Problem Solving Leadership, PSL, based upon the book. I wrangled an invitation and took one of my colleagues along with me to The Sylvia Beach Hotel in Newport, Oregon, where I managed to fall ill through more than half of the workshop. I sent several more colleagues in subsequent years and even attended their follow-on Change Shop in Tucson a year or so later.

PSL marks a turning point in my personal and professional life. Before, I kept the two lives very separate. After, I found myself unable to separate the two, which of course caused complications. Almost everything in both lives would unravel over the following five years. The first divorce and dismemberment, a radical mid-career shift, a second marriage. I was even invited to join the PSL faculty where the core of my future personal and professional friends would find me, including The Muse, who became my third wife.

I think of Jerry as an insight generator. He'd create some context within which it seemed inevitable that some fresh, sometimes blinding insight would emerge. These experiences tip one over. He had the ability to ask the perfect question, often of the fundamentally unanswerable variety, a koan of a thought producer which often shifted perception. I labeled this ability second-order or Brief Consulting, where the questions seemed more useful than a cart-load of answers. My own emerging consulting practice was enormously informed by Jerry's "antics." He was never not a character.

I was a proud part of the PSL faculty for seven years before a tangle over the future of it created a huge rift within the faculty community. I went my way more than a little disappointed at the outcome, feeling not wholly prepared for what might come next. I maintained close connections with many I'd met through my association with Jerry and PSL, but I never spoke with Jerry again. He was no longer my mentor after that, though I suspect that my solo career might have been a lasting legacy. I'd considered reconnecting with him someday, to reflect on those times and try to put them into focus with the times since, but I never did.

I can only feel gratitude for Jerry's presence, which seems unaffected by his sudden absolute absence. As author of many books and a convener of many workshop and conferences, he mentored many more than just me. We never did get close, though we worked together for the longest time. Like many mentors, myself included, he seemed to struggle with forming tangible relationships. He could nudge out intimate details when consulting or mentoring, but somehow never seemed able to submit to the casual association friends and even co-workers share.

I once stopped in to visit with him when returning from a consulting gig. I shared the story of that engagement, where everything I did seemed to just magically work. By the end of that week, the difficulty I'd been hired to help resolve seemed well on its way to full resolution, though the client had asked me to stay over the weekend so I could check in the following Monday. That weekend, I felt as exhausted as I'd ever remembered feeling. I sat in my hotel room watching a baseball game on television when I found myself starting to cry. The first tears quickly turned into heart-retching sobs where I struggled to catch my breath. I cried like that, I guess, until I fell asleep, waking with crusty cheeks just before dawn.

Jerry said, "Oh, you do that too?" He didn't need to say anything else.
©2018 by David A. Schmaltz - all rights reserved