DiningDown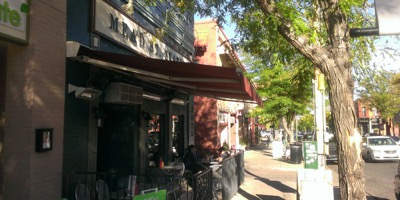 " …home food seems better suited to our temperaments."

The place looked okay when I spotted it from across the street. Early Friday evening, seventy eight sweet degrees, and The Muse and I are out to do something with the tail end of our week. She suggested Highlands, a neighborhood of over-priced crumbling shotgun houses with a definite yuppie vibe: dog spas, yoga studios, cafes with sidewalk seating. I agreed. We found a place to park just a block down from the main commercial strip and strolled up to see what had changed since last time. We'd both sworn to not choose that pseudo Italian place we'd visited a few times, each dinner intended to convince us not to come back. Denver doesn't seem like much of a restaurant town, so choices limit our choices.

Not that we know the place. We're true exurbans now. We complain about the lack of urban services in our exurban neighborhood, but we seem as lost as if we were from rural Kansas whenever we near the South Platte, the seasonal stream separating Downtown (both upper and lower, LoDo) from its residential counterweight to the West. Both areas seem hostile to human existence, due in no small part to Colorado's aversion to rudimentary urban planning. Still, it feels somehow refreshing to visit the more Potemkin portions of Denver's urban environment, half-million dollar crumbling brick shotgun houses and all.

The place looked okay when I spotted it from across the street, sidewalk seating in the shade. We slipped across the street mid-block and I asked to see the menu. Burgers, light entrees, nothing offensive or out of character, almost a template menu copied from Pinterest. We found a sidewalk table away from the interior's cacophony. I leveled the table with two otherwise useless Equal® packets and we settled in. I could see the Rockies' game through the open wall into the bar. The Muse could hardly hear me since she sat on the exiting cacophony side of the table. Waiter finally came with water, asking if we wanted a drinks menu. Sure.

For a Denver bar's tap beer list to extend no further than ten choices seemed unusual. That my first two choices were unavailable because "we're changing the taps" seemed down right odd. When the waiter suggested perhaps a Bud Light or a Coors Banquet rather than the craft Pilsner they were out of, that seemed damned insensitive. My feelings ached. We ordered food anyway, with me sipping a third choice Boulder Pale Ale and The Muse, a Malbec. Crispy Brussels Sprouts with feta. Steak salad for The Muse, Baja tacos for me. The Muse loved the sprouts.

Supper arrived: a mystery steak salad and three of the cutest little tacos ever. I thought her meat might be Tri-tip. The Muse wouldn't hazard a guess. My tacos featured a full tablespoon of cod in each, surrounded by a fine red cabbage/manila mango/avocado/marinated red onion/fresh red pepper slaw. Inoffensive. I got my requisite three tablespoons of protein and a second beer before we quietly left. The Rockies had recovered from their first inning deficit.

The drive back up into the exurbs was quiet. These sorts of suppers often leave us both speechless. We listened to the end of the Nats game and tried to recover interest in the Rockies', but failed. We opened the sun roof and the windows and drove the back way, avoiding the freeway which would have been packed with urbanites Friday evening fleeing to the exurbs. We were clearly underwhelmed with the experience; no harm, no foul, also, no surprise.

Eating out usually turns into an exercise in DiningDown. We hardly ever eat out anymore. The periodic Friday evening fish fry at the little joint on South Golden Road. A diner when we're traveling. Otherwise, home food seems better suited to our temperaments. It's been ages since I swooned with delight over something a commercial chef produced and longer than that since I found a dining atmosphere that seemed designed to enhance or even support my dining experience. Most insist that I descend into one of the lesser-advertised circles of Hell to order off the adult menu, whether that be the cackling intern circle, the deafening background music circle, or the one where the sidewalk table won't quite level no matter how many otherwise useless packets of Equal® I employ, we're DiningDown.

©2018 by David A. Schmaltz - all rights reserved