Certified Complete Idiot
05 10, 09 05:23 Filed under:
Work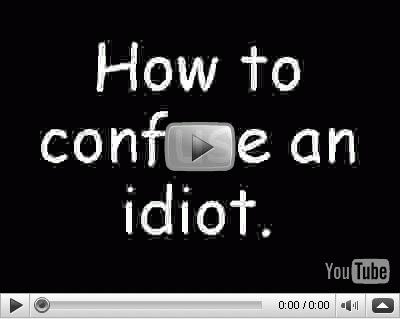 Project Management Institute Announces New Professional Designation
According to an official in a company closely related to the organization, the
Project Management Institute
will announce next week the creation of a totally new professional certification, CCI™, the Certified Complete Idiot designation.
The statement found on PMI's Web site asserts, "since its founding in 1969, Project Management Institute (PMI®) has grown to be the organization of choice for project management professionalism. With over 80,000 members worldwide, PMI® is the leading nonprofit professional association in the area of Project Management. PMI® establishes Project Management standards, provides seminars, educational programs and professional certification that more and more organizations desire for their project leaders."
"This CCI™ program is a natural extension of our traditional focus," reported a PMI executive on the condition of anonymity. "We've been in the certification business longer than many organizations have been in existence. We've had an increasing number of requests from our certified members for additional certification programs. Further, member organizations find the promise of additional professional certifications to be a highly valued perquisite among their professional staff. They tell us that those we've already certified are among their most loyal and dedicated employees. Unlike software engineers, who jump ship on the promise of the tiniest increase in salary, most never leave once they become certified as a Project Management Professional."
"We think of the Project Management Professional designation as a professional handcuff," disclosed one client company spokesperson. Details of the new CCI™ program were sketchy at the time of publication, but one person close to the decision-makers at PMI® reported that an outline was nearly finalized. The program seems to closely map to the present PMBOK, or Project Management Body of Knowledge, with one important distinction. The CCI will be centered around a CCIBOE, pronounced "See Sigh Bow", or Certified Completely Idiotic Body Of Experience. Unlike the PMBOK-based PMP certification program, however, the CCIBOE-based CCI™ certification's course of study will include neither extensive reading nor rigorous testing.
"We've learned some things in our thirty plus years of certifying professionals," disclosed a recently departed member of the PMI® executive board. "Our present Project Management Professional certification program requires extensive reading of the usual irrelevant materials and rigorous testing based upon rote memorization of inconsequential details. This program has attracted many who want to know about project management and many fewer who seem to have any desire to actually manage real world projects."
"Our largest complaint from our client companies," continued the ex-PMI board member, "Was that after certification, our project managers were so pumped up with theory that they didn't have a clue about how to manage real world projects. So we decided to try a different approach this time. Since real learning seems to require making mistakes, our new program focuses upon accumulating a body of experience, rather than memorizing a body of knowledge. Accumulating a body of experience usually means engaging in ways that might lead an unenlightened observer to conclude that they are dealing with a certified complete idiot, hence the program's name and focus."
One PMI®-certified Project Management Professional reached for comment was enthusiastic. "With this certification, I might be able to actually engage with my project's community instead of manipulating them from the isolation of the project office. With the

PMP, I always felt like I was supposed to make the project turn out the way it was originally envisioned, which often left everyone worse off. If I can be pre-certified as a Complete Idiot, I won't have to watch my every step. More important, if my community understands from the beginning that I'm a Certified Complete Idiot™, they won't judge my stumbles as harshly."

Spokespeople for several PMI® client companies were similarly enthusiastic. It appears to this reporter that PMI® has another solid professional program on their hands.

Interested parties may phone PMI's Newtown Square, Pennsylvania headquarters at 610-356-4600, fax them at 610-356-4647 or E-Mail them at pmihq@pmi.org.

Note: PMI, PIMBOK, PMP, CCI, project, the®, and® and are® registered trademarks of the® Project® Management® Institute® and® are used here against the® author's better judgement.