MissingMeals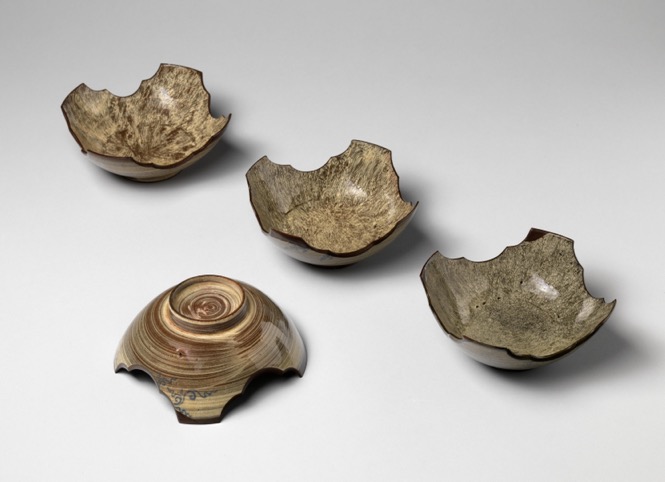 Unknown Japanese: Set of food dishes (mukōzuke)
(early 18th century)

"My work is my reward here …"


I measure engagement by how many meals I miss when working on something. I might just fail to notice when mealtime arrives or I might find myself so focused upon whatever I'm doing that I cannot quite face pulling away, and so meal time just slips by. Other times, I find myself indecisive, unable to imagine anything like a coherent meal arriving. Why bother? Meal breaks sometimes seem like a waste of my day. It's not like I'm in any danger of drying up and blowing away. For me, most meals seem optional. If lunchtime noses past about three-thirty, I'll usually just let it slide, deciding to let supper pick up the slack. Sometimes, I abandon supper, too, usually when I'm just too tuckered to bother. By the following morning, I might regain my appetite or I might find myself focusing in and away again.

Dining out long ago lost its allure. I find the ritual off-putting, the greeting and seating, the menu usually missing what I'd hoped to find, the waiting and the waitering, the gratitude and the settling up. When facing another dining out ritual, I don't even need some alluring effort to dissuade me from eating. I'll just buck up and continue driving or distract myself until something more conducive appears. I'd settle for a bratwurst and a couple of beers and a dessert course of Getting Out Of There, of leaving the scene of the crime.

During The Exile, I guess, I first came to notice my meals losing their allure. Before then, supper seemed well-deserved and even necessary. After, lunch, especially, came to seem unearned. I'd focus so much attention of making sure The Muse had her supper, that I'd often forego my own breakfast and lunch, figuring that since she was the breadwinner, she at least had earned her meals and so actually deserved them. I came to pride myself on my self discipline, my growing facility at denying myself something. I learned to separate eating from the other necessaries of living, rendering it into a genuine choice and much less of an imperative; an optional.

I have always believed that the greatest wealth lies in what one can comfortably deny themself. While others focus upon accumulating tokens, possessions and permissions, I've attended to gaining different self-disciplines, to transform wanting into acceptance of another absence. I figure that all possessions are mammon, that even the most treasured is continuously wasting away until someday—probably not today or tomorrow— it will go away. Nothing's permanent. The Muse asked me if I had any bucket list items I'd always held, hoping to receive them someday. I responded that I do not, that I figure that I'm well-enough off, that since we returned from Exile, I live in Heaven. I sometimes so immerse myself in this heavenly context, that I end up Missing a Meal or two. That's small potatoes, or, really no potatoes at all. My work is my reward here, not the subsequent meal.

©2022 by David A. Schmaltz - all rights reserved