Homeless 0-42: Home of Cards
18 08, 12 04:41 Filed under:
Life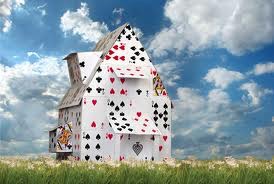 I met Amy almost fifteen years ago in the breakfast room of The Nordic Inn, where we are staying this weekend, here in Mt Crested Butte, Colorado. She was building a house of cards.

Her team was chasing the clock to complete an eight foot tall house of cards. She, the shortest team member, was balancing on a chair, placing cards on the teetering top of the structure, when another of her team members asked me, one of the workshop facilitators, if he could borrow my measuring stick to determine how close they were to finished.

That's when her team discovered that they were trying to build an eight foot tall house of cards in a room with a seven foot ten inch high ceiling.

How did they respond? By building faster!
Some turned into politicians, "Can we use Amy's foot as the unit of measure?" Mark, a theoretical physicist (who I also first met that day, now a lifelong best friend, has showed up here this weekend to celebrate my birthday), asked if it would be good enough to prove that their design could have succeeded. Nope.
The team continued building and denying for a full ten minutes after the designated end of that exercise.
Reflecting later on her experience, Amy realized that it perfectly encapsulated her life at the time. At work, she was diligently leading a project that she knew in her heart could never succeed. Similarly stuck in several aspects of her life, she was building faster in response, negotiating for some wholly unrealistic outcome, given the short ceiling. She had a lot of experience building houses of cards in places where they could not stand.
Just like we all do.
Unlike many of us, she decided to do something different. Though she swore that she'd take no action for at least six months, until the new realizations sunk in fully. Six months later she'd quit her job, sold her home, divorced just shy of the twenty-fifth anniversary, and moved half way across the country to start a new career where the ceiling seemed higher than seven feet ten inches.
She's been building taller houses of cards ever since.
The point in this curious life probably isn't whether we're building houses of cards or more sturdy, sustainable structures. We're unavoidably building houses of cards, certain to eventually fail and fall. The purpose might be to choose to construct those buildings in places where we might actually complete them.
Success seems inevitably fleeting, and motive useful only to the point that we honestly believe we could actually succeed. When you discover that you've innocently started building your house of cards where it cannot be completed, move the effort somewhere with more upside potential.
It seems fitting, then, that Amy and I revisit the scene of her transforming realization while we're in the middle of considering constructing yet another home from the cards we've been dealt. What context might accommodate our lofty aspirations now?©2012 by David A. Schmaltz - all rights reserved