HomeCaming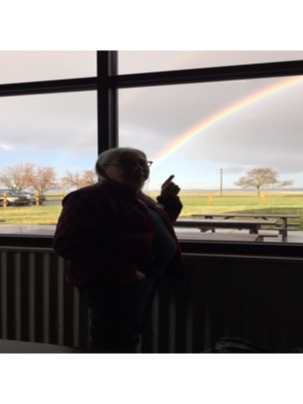 "They warmly acknowledge both that we once passed by here and that we are back …"

Two weeks after arriving, this place starts feeling like home again. The first two weeks, separated with a three day swoot over to Portland last weekend, seemed discontinuous because they were. We're up early and down early, sequestered at the old place "helping" with the massive remodel all day, missing lunch most days, seeing little more than the short path between my sister's place, where we're staying, and the Villa. Last night, a Friday, we ventured out after dark to attend a gallery show opening at one of the local wineries. As we slowed into our parking place, The Muse later recalled, her usual anxiety flared until she noticed someone she knew inside. "Hey," she thought, "people know me here!"

Entering the gallery, she is met by another old friend Jacqui. Hugs exchange. "Welcome home," Jacqui exclaims, The Muse almost moved to tears. The nearly nine year exile from this place has weighed heavily on me but perhaps most heavily upon The Muse. I'd, in the course of my rounds, met many, but she hardly ever gets out anywhere besides her job at The Lab. I've covered the shopping and walked the neighborhood streets greeting neighbors she almost never sees. We go places anonymously, knowing nobody and, more significantly, unknown to everyone else in the room. She refers to our neighbors, and, indeed, ourselves, as carpetbaggers because everyone seems to be from somewhere else, making their way in foreign territory. It's ultimately a lonely way to live.

Returning to what we refer to as our home town even though it's really only my home town, we're apt to bump into people we know when we stop by the grocery store. We know their history and they know ours' as well. Recognition doesn't begin to describe what transpires between us. We collected hugs as we moved around that gallery floor, reconnecting, though the old connections had never really been lost, just temporarily unplugged. I'd call this a homecoming, but we've experienced this phenomenon so many times now that it's almost like we never left in the first place. I'll try on the term HomeCaming to avoid suggesting that we're back permanently this time. We've come back many times before only to find ourselves forced by circumstance to leave again and again, only to return again and again and again.

Each time, the pull to simply stay and not leave again tugs more strongly at our heartstrings. Our aging heartstrings feel less resilient than they used to feel. We're not practicing anymore. We've entered the seriously non-refundable portion of our lives, and feel it deeply. We leave each time feeling increasingly like we'll be damned lucky to make it back and holding the full conviction that we damned well WILL be back. Our old friends look older each time, as I'm certain we also look older to them. The times have changed in our absence and continue to change unless watched closely every single day. Each absence, in addition to making our hearts grow fonder of this place, allows the place to slip a little further away from us, like we've closed our eyes in a grand game of hide and seek. When we open our eyes again, some of what we knew so well and what knew us so very well seems to have simply disappeared, perhaps simply hiding.

I want to scream Ollie Ollie Oxen Free and just make the time we left come back into focus, though I know it won't. We went to breakfast at an old reliable place that has recently been taken over by someone that doesn't understand the first thing about making great hash browns. There will, of course, be new reliables emerging once we return. The fine bread bakery reports that it's up for sale. We claim to know this place, but we're re-introducing ourselves just as it seems to be re-introducing itself to us each time we return. The people, though, change while remaining almost exactly the same. They recognize us and we still recognize them, the superficial external changes, hardly worth mentioning. We do not mention them at all. We will not.

To be recognized, Humberto Maturana insists, is love. To merely nod at another person met on the street is an act of love. How very much greater the love exhibited and expressed to recognize someone who knows you, even the you that you used to be, lurking in the crowd, for this seems like affirmation of the finest sort. Those of us who have spend significant portions of our lives anonymously understand perhaps better than those who never left their home town how necessary these small nods across a crowded gallery floor remain in our lives. They scream that we are still alive. They warmly acknowledge both that we once passed by here and that we are back, HomeCaming.

©2018 by David A. Schmaltz - all rights reserved