Carless- Day Sixteen -Father of Convention
29 07, 12 04:19 Filed under:
Life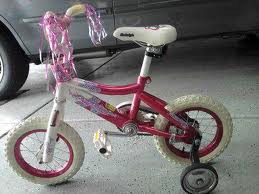 I'm supposing it started as most modern beliefs do, as a marketing ploy; some way to differentiate for profit. Before, there were bikes. After, "boy's" bikes and "girl's" bikes; not "men's" and "woman's," but always "boy's" and "girl's". The difference being that while one has to hike a leg to mount a boy's bike, a skirt-wearing girl can just step through with dignity intact, as if zooming around on a bike while wearing a full skirt qualified as dignified.

For most men of my age, though, this marketing ploy stuck. I'd no more ride a "girl's" bike than wear her skirt, and this little stigma strikes me as simply silly.
Amy owns a perfectly decent, fully-operational 1976 Schwinn Suburban twelve speed, but she doesn't feel comfortable riding it in traffic. My bike's laid up for a week or so, and I'm feeling ginky as a cross-dresser even thinking about riding her bike around.

It's not like anyone knowns me here, and I cut one goofy profile when I ride my bike, anyway. Yet I care. Deeply. Over the next week, though, I intend to challenge my little prejudice and see what might happen to me if I were seen riding a "girl's" bike around town. Necessity, if not the mother of busted convention, might be its daddy.
©2012 by David A. Schmaltz - all rights reserved