OtterSpring1.0-Arrival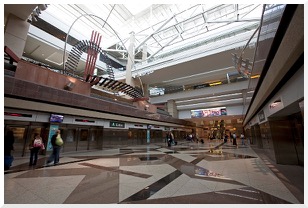 She grew up in our absence. She seemed to be working on mastering twenty three at fifteen. Now that she's newly passed into her eighteenth year, though, that poise which seemed so prominently missing from her earlier attempts at maturity has arrived. Sure, remnants of gawkiness remain, but as grace notes rather than dominant melody. Somehow, out of that roller coaster ride, a beautiful young woman walks up out of the arrivals queue. Neither The Muse nor I at first recognized her.
Tight hugs then, and the new chalkline's snapped. We stroll together over to claim her baggage. I stand back and to the side while The Muse and her Otter grin themselves back together again. Their bond makes mysterious blush, and chokes both of them up at first; a rich dessert served as the first course. I imagine it chocolate flavored, and not milk chocolate, either, but the kind with slightly sour cherries, chiles, and coffee flavors prominent, with just the faintest sweetness around their palate edges. I properly watch from a short distance.
The city seems a faint shadow as The Zoom Car picks her way toward the opposite diagonal corner of the place, from Kansas to The Front Range in forty five minutes. The Muse points out what could only be seen in daylight as we slip stealthily by. Little will be observed until the morning. I report, while slowly navigating around a blind hairpin curve, that a herd of elk favor this particular spot, then spot them favoring there. Nobody else catches their faintly iridescent presence.
The new place satisfies The Otter. I ask her if it feels home-isn enough, and she responds very positively. Rose The Skittish Spinster Cat slinks and whines, but I know she'll soon be inseparable from this long-lost stranger. She's known Sara all her life. The Muse reflects that The Otter will be our first over-night guest in this new place, an act of sanctification she has performed for us in each of our previous two digs. She was there when we first moved into Takoma Park, and she finds most of her old furniture friends arrayed through this latest new place. That bed's an old acquaintance.
We take a very late supper, finishing after midnight before evaporating into sleep. The transition came and went easily, almost invisibly in the dark. She to what we will now undoubtedly always think of as Sara's room, and us to ours with that skittish spinster cat sleeping sideways between us as usual. A short landing separates two doors left wide open for the night. The Muse asks Sara to turn off the hall light as she leaves the bathroom for bed. The light goes out and I hear her settling in before sleep smothers me. The arrival stage tucks itself in for a short sleep before this adventure begins in the morning.
©2016 by David A. Schmaltz - all rights reserved