26 06, 20 06:40 Filed under:
NowHere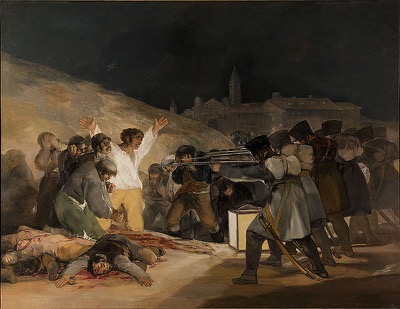 The Third of May by Francisco Goya, 1814
"the first great picture which can be called revolutionary in every sense of the word, in style, in subject, and in intention". Kenneth Clark

"The world changed. I haven't completely kept up."

Acceptance of the NowHere seems a first step, not a final one, for any fresh acceptance will likely appear clumsy, more of an Accschleptance than a flawless integration. This seems a cruel joke, for once surviving the denial, anger, and bargaining before achieving a point where acceptance might prove possible, the cycle seems to simply start all over again with acceptance. An exhausted acquiescence might best characterize the first taste of this sort of success, more surrender than embrace. However such changes occur, they're unlikely to show anyone performing at their best. You'll be several songs into the new set before the sound check's really completed, and until then, any early audience should properly feel initially disappointed. Later some mastery might emerge. Maybe.

This first week of Summer included the tail end of Spring, a transition for both seasons and my blogging themes.
Slip over here for more ...